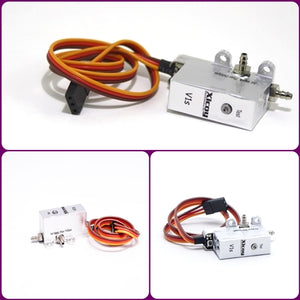 Single Action Air Valve (V1)
Single action electronic valve. Can be used in normal, ON/OFF mode for spring operated landing gears or air brakes, and in proportional / Pulsed mode for brakes, offering "anti-lock" function.
End points easily programmable by a push button. Status LED and manual mode operation, can be opened without electric power.
Up to 7bar /100psi. Small size: 33x15 mm.
Light weight: 18 gram. Voltage: 4 to 8.4 V.
Low current consumption. <6mA inactive 80mA active.